Learn how to use DarkTone
DarkTone mode is a beautiful new way to focus on your content with an all-black appearance.
---
Enable DarkTone

DarkTone is enabled via Settings -> Choose Wallpaper. At the top of the wallpaper gallery, choose the black wallpaper, and close Settings.

DarkTone will be enabled. Note that this change only affects the Library menu and Settings or any other menus do not change according to DarkTone's preference.

When you set a light-themed wallpaper, the UI will be light and translucent menus will be enabled in Light Mode. Wallpapers with a darker theme will enable a partial-DarkTone mode, with translucency being black themed.

In RetailBox 4.3 and later, you are manually able to select the color scheme in Library Appearance.

Powered by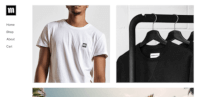 Create your own unique website with customizable templates.