Software Network Media Partner Program
---
The Software Network Media Partner Program is designed for social media influencers who wish to become Software Network Authorized, and post videos, images or other forms of media to their fanbase. We offer extensive service to support your ideas and development, including Press Kits, an unlimited amount of one-on-one FaceTime calls with Senior Management, Software Engineers, and exposure for your channel to our 10,000 followers.
There are two types of service we offer, which can support your development:
Limited Media Partners: Offers exposure on our Instagram and YouTube channels and exclusive press kits and sample code to support your content.
Authorized Media Partners: One-on-one meetings via FaceTime (or other service) for ideas on how to best support your channel when providing content.
All channel-related content can only be supported when relative to Software Network.
​
​What are the benefits to you?
As an authorized member, you will receive verification from Software Network, as an accredited member to promote RetailBox, and other Appleosophy or Software Network related content. We provide a page on our website for our over 10,000 fans to gain exposure for your channel and content. You also get to promote exclusive updates on RetailBox information (such as future updates), which will be shared to you days in advance from when Software Network publicly releases the software.
Software Network may also provide you with financial assistance with your channel to better support your development (terms apply).
Pricing
Limited Media Program:
$49.99 per two months (small channel)
$99.00 per two months (large-scale channel)
Authorized Media Program:
$149.99 per year (small channel)
$299.99 per year (large-scale channel)
​
Register
Powered by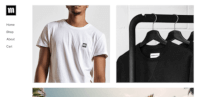 Create your own unique website with customizable templates.