UPDATE
​RetailBox 4.3 beta 1 released with new innovations that enable new experiences.
RetailBox – the world's most advanced showcasing app for iOS has a new major update, coming later this fall. RetailBox 4.3 enables new experiences with the support for the effortless technologies of Face ID and Touch ID, advances to DarkTone, original new wallpapers for a prominent level of personalization. RetailBox 4.3 is the biggest update to RetailBox we have ever released.

Retail Restricted Mode

Retail Restricted Mode, first debuted in Screen Saver 4.1 and it has quickly been one of the most popular features to RetailBox since it was announced. Numerous retail locations are taking advantage of Retail Restricted Mode's high-level features, and now in RetailBox 4.3, it works hand in hand with Touch ID or Face ID on iPhone X and later to enable you to effortlessly access Settings with just a glance. "When we launched this feature in RetailBox 4.1, we knew this would be a success with retails and it was" said Wilson Gramer, Software Network's President of Software Engineering. "Now in RetailBox 4.3 everyone can harness the power of this feature while it works seamlessly with the device, rather than being an obstruction".

DarkTone

DarkTone was first announced alongside RetailBox 4.2, and it was a hit. Most users prefer a dark-appearance in their app, and now RetailBox 4.3 allows you to manually choose if you want a Dark appearance alongside one of the wallpapers, rather than RetailBox automatically changing it without a choice. "DarkTone's success led us to create a magical experience, one where the user has more control over the feature that they were changing," said Vis Berry, the President of Software Network & User Interface Software Engineer, working with Wilson Gramer. "These new enhancements will make the feature even more popular."

Store Registration (preview, coming in 2019)

Store Registration is an all-new way to experience RetailBox. With many stores now using RetailBox, and with many having multiple locations, this is an all-new way for you to register your location and have it on the database of stores. "Store Registration is a creative new idea and one that we decided to preview early because we wanted to see the response that it would get, and what you think if it," said Sebastian Szöcs, the Head of Creative Design for iOS Mobile Applications.

Store Registration will be available in early 2019 issued via a software update.

Performance & Stability

Performance is a really important part of any app experience, especially with an app that requires optimization. With RetailBox 4.3, we've made performance improvements, scrolling improvements and animation improvements in many areas. The app has been updated to Swift 4.2, which allows for the faster adoption of new technologies in the future, and new improvements in the app which will be enabled by new experiences later this fall.

About

With RetailBox becoming more popular, we wanted new ways for users to get in contact with us and see what Software Network is. With the new About screen, it will enable you to share a referral link to the app with your friends and family, and you can see all our social media profiles and follow us for the latest news.

These features will be coming in a later RetailBox 4.3 beta release.


The developer preview of RetailBox 4.3 is available to beta testers, starting November 27, followed by a public beta preview available for everyone later this fall. RetailBox 4.3 will be available later this fall as a free software update for iPhone 5s and later, all iPad Air and iPad Pro models, iPad 5th generation, iPad mini 2 and later and iPod touch 6th generation. Features are subject to change. Some features may not be available on all devices or in all regions or all languages.
Powered by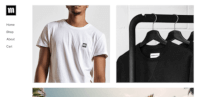 Create your own unique website with customizable templates.